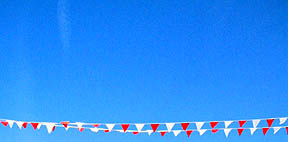 I came up with the idea of StartBlogging.net about two weeks ago. Within an hour of thinking about the concept, I already purchased the domain name and had a general outline of what I wanted to create. Well, after two weeks of coding, writing, and primarily slacking off, I finally have an end result that I feel will be a great asset to both new and old bloggers alike. I have been helping others with their blogs for as long as I have been blogging myself and now, through this blog, I can help anyone who seeks it.
The Guide is the main focus of this blog. It is a step-by-step guide (with pictures and illustrations!) that will show you the exact steps you need to take in order to setup a blog. The beauty of it all is that you need absolutely no prior technical knowledge of how to operate or build a website in order to follow the guide. In fact, you should never have to write a single line of code.
Another crowning point of this blog will be weekly updates. Each Sunday there will be an update with the latest themes and plug-ins that I find useful for new bloggers, but even more importantly, I will personally review blogs that have come to existence through the help of this site. Included in this will be a free link on the homepage for an entire week! Absolutely free! The purpose of this is to help all the new bloggers gain focus and attention. After all, getting initial exposure is one of the hardest parts of blogging, but I'm here to help. Aside from weekly features, I will feature a start-up blogger and their new blog each month that I feel has made significant advancements. This is the publicity every new blog would love to have.
I also plan to reveal to everyone at the end of each month how much money this blog has earned for that month. Now, if you know me, this should come as a bit of a surprise as I never talk about my online earnings. However, since I'm starting a blog on blogging and how to make money online, I feel it's only fair to share this information with you.
From there, this blog will continue to focus on way you can improve yours. I'm going to share my expertise with everyone on a daily basis. You will be given the tools and the knowledge to become a successful blogger. Be sure to visit often and subscribe to new updates.
StartBloggin.net Launch = Free Blog Promotion! Now until Sunday October 7th, submit any blog through this page to have your blog featured on StartBlogging.net! However, you must meet the domain name and five post minimum criteria.