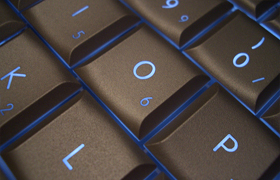 Hosting a website may sound confusing, but in reality, there is very little to it. A host is basically a server that stores all of your blog's files. There may be more to it than that, but this isn't Hosting 101. I'm here to show you which host to use and how to properly order your hosting.
You're more than welcome to choose any host you want, but I highly recommend you use HostGator
. I have been a member for almost a year now and I can safely say this, they are simply the best when it comes to hosting. Their speeds are the amazing at their price and support has always been there to help. They offer 24/7 live chat support as well. If at any point in time you run into a problem, you can instantly chat with a support representative.
HostGator offers three types of hosting plans, but your decision will only be between two. First, we have the 'Hatchling' plan. This plan will support only one domain and up to 20 email addresses. It costs $6.95 a month, but a full year must be paid in advance for a total of $83.40 per year. If you are planning on owning only one website forever, then this is the plan for you. However, if you think that within the next 12 months you'll be likely to start a new website, I HIGHLY recommend going with their 'Baby' plan. You can host an unlimited number of domains and email addresses for only $9.95 a month. This is the plan I use and I couldn't be happier. To read more about the features offered, click here
.
Before you actually order the hosting, make sure you have these two things ready: (1) an available domain name and (2) which hosting package you want to go with. Now, click this link to be taken directly to the Order Page
.
Select 'Shared Hosting' and press Continue
Be sure to select 'I will use My Existing Domain and update My Nameservers only.' and properly fill in your desired domain name and the correct extension. If it looks like the image below, press next.


At this step, you need to select your desired hosting account package. You should already have this figured out, if not read the few paragraphs above. Press continue then press calculate totals.
Choose the 'I am a New Customer' option and your page should look similar to the image below, depending on which hosting you chose.


Finally, fill in your personal information, agree to the terms and services, and select verify my order. Your order will be processed and your account will be set up! That's all there is to it. Pretty painless, huh?
Now, you need to wait for two emails. The first one will look very similar to this:
Thank you for choosing Hostgator.com as your web hosting provider. This email confirms that we have received your order.
If you have already submitted payment, your account will be setup within 20 minutes. If you have yet to make payment you may do so by going to https://secure.hostgator.com/billing and logging in with primary email address / password specified at time of signup.
Once setup you will receive an email notification with your account information. If you fail to receive this email please check your spam / junk email folder. If you still don't have it please contact sales@hostgator.com with another email address we can send to.
Please note that setup for semi dedicated accounts may take from 2-8 hours setup time.
Thank you,
HostGator.com Sales Team
And after 20 minutes you should receive an email that looks like this:
Your Domain: yourdomain.com
Your Username: username
Your Password: password
Your sites IP address:
12.34.567.890
Your name servers:
ns123.hostgator.com
ns123.hostgator.com
———————-
Until your DNS has changed over to our nameservers, you can access your cPanel at:
http://12.34.567.890/cpanel
You can view your site before the DNS has been resolved at:
http://12.34.567.890/~username/
There is a file called hostgator.html in your public_html folder. This page will give you basic links on getting started. Your welcome to delete this file or if you upload an index.html file in public_html, then the hostgator.html file will not come up by default.
Please read
http://www.hostgator.com/gettingstarted.html for all the information needed to manage your account.
Sincerely,
The Hostgator Team
Do not delete this email! In fact, print it out. Right now! You need to save all of this information. But for now, you have a working host and next you have to purchase a domain name.