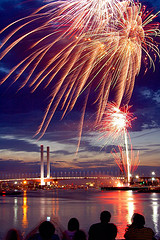 We all make the same resolutions: quit smoking, get in shape, eat better, gamble less, what have you. Everything to better ourselves. But what about our blogs? This blog has been a victim of neglect lately and it had me thinking about blogging resolutions. What can I do to better my blogs? So, now I have a list of things I'd like to accomplish in 2008.
Launch a month-by-month members-only program for the Daily Telecommuter.
Completely redesign I've Tried That. The design is ugly and needs a new year's makeover. Speaking of which, we do have a nice sized budget if any designers are reading this. Get in contact with me.
Make eleventy billion dollars. Increase book sales and affiliate commissions.
Spend more time on this blog. I don't update it enough and have plenty of advice to give.
Stop moving onto a new project when I have several that are incomplete as it is.
Launch and distribute the next version of my book.
What are your blogging resolutions?