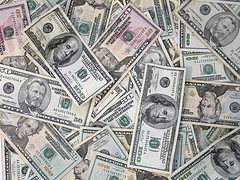 True to my word, I promised to track and freely display any income I've made from StartBlogging.net. I will continue to report these stats until the end of time, or when the site finally dies, whichever comes first. So without further adieu, I present to you StartBlogging's very first income report.
October 2007
Commission Junction: $100.00
Adsense: $3.26
For a grand total of: $103.26!
If you think about it, $103.26 isn't a bad way to start off a blog. In just under a month's time, I managed to earn enough from the blog to fully pay off hosting for all of my websites and I covered every expense I had to pay in order to start this blog. Most blogs won't even come close in their whole lifetime to seeing $100 before giving up and giving in. Also, almost all of the earnings came through one affiliate sale through HostGator and that can be attributed to my Start a Blog guide. You can expect that I'll heavily be promoting that over the next couple of months in order to rank in a few more sales.
While John Chow earned $352.94 in his first month of monetizing a blog, I managed to pull about one-third of that. Sure now he's making over $23,000 per month (I know, pretty unbelievable) with just one blog, but we all have to start somewhere. I predict I'll start seeing an increase in earnings; I just hope it's as dramatic as John's 6,600% in just a year. That would be nice.