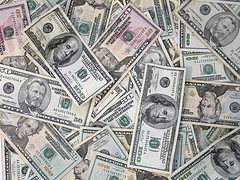 Round two of Start Blogging's income report. This blog was started to help others start a blog. See what I did there? Either way, this blog is a side-project that I started to help others learn about the fascinating world of blogging through my shared experiences. I teach what I know in hopes that anyone reading this blog can become as successful as me.
November 2007
Commission Junction: $103.80
Adsense: $3.14
For a grand total of: $106.94!
If you look back to last month's earning report, I pulled in a measly $103.26. Anyone with any form of deduction skills can see that $106.94 is higher than $103.26 and that this blog is already a growing success.
Okay.
So, there was hardly an increase, but the fact remains that there was an increase and profits are on the rise, albeit slowly. I've started marketing the site a little better and I'm pulling in more and more visitors each day. I fully expect to break the $200 mark next month and continue from there.
Earlier, I stated that you can all become as successful as me. You may not see $106 as successful, but this is one of my four blogs and the lowest earner by at least a couple hundred dollars. While I may never hit the $27k per month mark like John Chow, I'm gradually building my monthly income and I can easily sustain living with no real job.